ACTA is is now offering a condensed apprenticeship training for South Carolina Contractors.  Our first semester class will begin on April 20, 2023.  Our HVAC Sheet Metal class is a 4 year program.  This condensed class will fit 1 year of online training into 12 days total.  The year will be split into 4 quarters, each consisting of three, 8-hour days of online class (9am-5:30pm).
Students will be given time to complete their homework assignments in class, allowing them to ask questions and receive answers without delay. With a condensed schedule, apprentices will only have to miss a total of 8 days of work for a year's worth of training. In 3 days of class, apprentices will be taught approximately 9 weeks worth of information. This allows students to learn a chunk of information in a short amount of time, and then turn their focus solely on the hands-on education at work.
We have been training apprentices in California since 1972 and are excited to expand our apprenticeship training to South Carolina contractors. For questions about the condensed apprenticeship or if you are interested in enrolling an apprentice, email jmojica@actrade.ac.  
(Contractors may qualify for a $1,000 tax credit for each apprentice enrolled.)
---

How our "Live" Online Training Works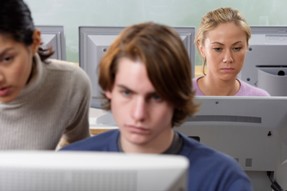 On ACTA's Online Campus, every student interacts "live" with their instructor.  Even students with little computer experience find it easy to engage in class activities, go on web field trips with the class, ask questions, and most importantly, learn what they need to know to benefit themselves and their employer.
---
Student Qualifications
Computer or Tablet

Headset with microphone or a dial in audio connection

 

Internet Connection

Basic Math Skills

High School Diploma or G.E.D. 

 
---
Testing and Certification
A Journeyman's Certificate of Completion will be awarded to apprentices who successfully complete all class requirements and finish 6500 work hours.  
---
---
For more information on membership benefits and pricing, please click on the button below.