HVAC Sheet Metal Apprenticeship Program
---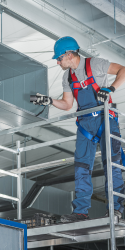 Invest in Your Company's Future! 
ACTA's 4-Year Apprenticeship Program teaches apprentices how to install and fabricate HVAC sheet metal fittings, read blueprints, and supervise jobs once they become journeymen. Provide your company with a skilled workforce through this Apprenticeship Program.
Do you need to increase your company safety, productivity, or employee confidence? This program will help to do all three by offering quality training to individuals. Our goal is to give individuals the knowledge needed to benefit themselves and their employers. We take individuals with both no experience and many years of experience, and give them the job-related classroom knowledge needed to be prepared for the hands-on training. Contractors are then responsible for the on-the-job training.
Enroll an Employee or Get an Apprentice Dispatched
There are two options available with our apprenticeship. You can enroll your own employees into the apprenticeship program or have an apprentice dispatched to you for a specific job. When enrolling your own employee as an apprentice, that individual will work only for your company while attending the 4-year schooling. If you do not have an employee you want to enroll but still need an apprentice, as a member of ACTA you can request an apprentice be dispatched to your company. This apprentice will then work for your company for the duration of the job and when you run out of work, that apprentice will be "sent back to ACTA" and then sent to the next contractor who has work for the apprentice.
Traditional VS Condensed Training
The traditional training mimicks a 34-week traditional school year. Apprentices will attend one evening class each week and complete their homework assignment outside of class instruction. Students will receive the summer months of May through August off from classroom instruction. Our condensed training is a quarterly school year. Every three months students will attend 3 online classes for 8 hours a day (Thurs, Fri, & Sat). All homework assignments will be completed during classroom instruction. After those 3 days, students will have a break from classroom instruction until the next quarter.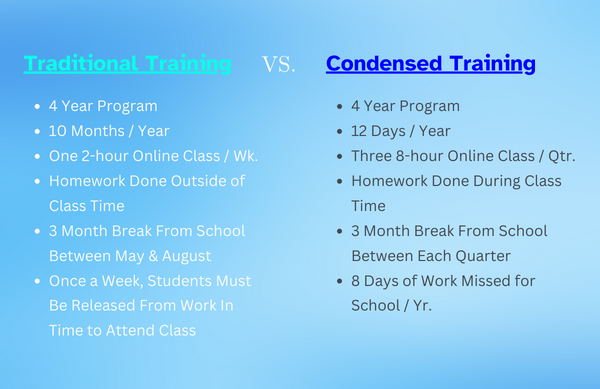 ACTA is the apprenticeship for you!
We have been training apprentices in California since 1972 and have recently expanded to South Carolina. For questions about the condensed apprenticeship or if you are interested in enrolling an apprentice, email jmojica@actrade.ac.
*Ask about the grants available to you.
---
---
Class Pricing

Click here for TRADITIONAL training pricing 
Click here for CONDENSED training pricing 
Enrollment due by Semptember 1, 2023

---
How our "Live" Online Training Works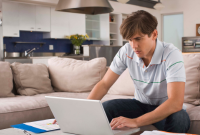 On ACTA's Online Campus, every student interacts "live" with their instructor.  Even students with little computer experience find it easy to engage in class activities, go on web field trips with the class, ask questions, and most importantly, learn what they need to know to benefit themselves and their employer.
---
Student Qualifications
Computer or Tablet

Headset with microphone or a dial in audio connection

 

Internet Connection

Basic Math Skills

High School Diploma or G.E.D. 

 
---
Testing and Certification
A Journeyman's Certificate of Completion will be awarded to apprentices who successfully complete all class requirements and finish 6500 work hours.  
---
For more information on membership benefits and pricing, please click on the button below.